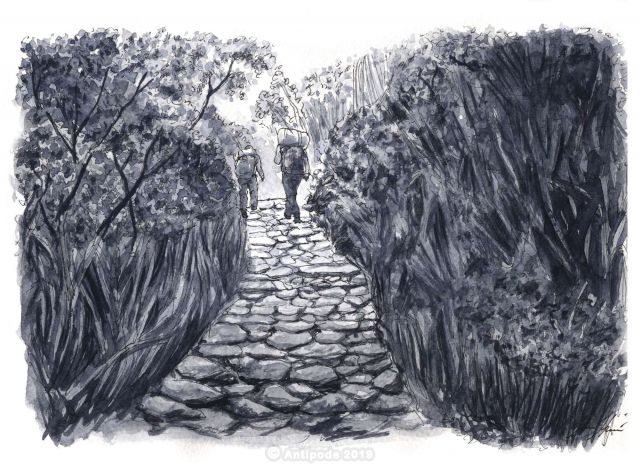 How to choose a trekking (ramble) in Peru?
What is the trekking (ramble) in Peru which is adapted to me? How to choose?

Trekking difficulty in Peru

We applied to our trekkings and stays the following difficulty scale:

Easy (1)
Inapplicable to trekkings, only for travels with any physical activities.

Medium (2)
Those trips need a correct physical fitness but it still is open to everyone who practice regularly a sportive activity. The time of walk per day may be about 7 hours maximum with a positive drop of about 800 m (occasionally more).
Are included in this category the trekking of Inca Trail, Lares and Salkantay.

Difficult (3)
Trekking including an intense physical activity. The walking time per day can be over 7 hours some days and the positive drop is superior to 1000m, on uneven grounds, with sometimes mountain passes at high altitudes (more than 5000m). For persons with good physical fitness. Those trekking include travel conditions sometimes difficult and summited to climatic changes.

Very hard / Technical (4):
Those tours need generally a regular sport practice in high mountains (alpinism or ramble in the Pyrenees) or a minimal technic knowledge in order to do it. It also included walking times and very important drops.

Trekking including the visit of the archaeological site of Machu-Picchu

The Inca Trail
The Inca Trail is the most appreciated of the travelers; gathering archaeological site and landscapes diversity. Thanks to its extensive media coverage, the Inca Trail (closed every year in February) is frequented each day by 500 persons (among travelers, guides, carriers, cookers…). It is necessary to reserve several months earlier. Moreover, the trail is the only way to accede to Machu Picchu site walking, avoiding Aguas Calientes village and, what is more, by the Gate of the Sun, giving an incredible view of the site.

To front of this huge success, to propose alternative trekking, there is two ways to go to Machu Picchu. There are not concerned by restrictions and are outside of the one imposed at the entrance of the even site (2500 persons per day, quota reached only in July and August).


The path of the Incas in 4 days
The path of the Incas in 2 days


Lares trek
Lares trekking propose the same format of 4 days (3 days walking and one day for the visit of Machu Picchu). It is located in the uplands of the Sacred Valley. The departure is made from thermal baths of Lares village until Ollantaytambo. The difficulty of the trekking is during the second day where it is necessary to reach a pass at 4400 meters altitude. The travel pass through typical villages from Huayruro communities, weaving specialists. This trekking can replace the Inca Trail in a complete travel without modification of the day's quantity. It is adapted to travelers seeking for authenticity, looking less the sportive dimension than the cultural aspect.

The Lares trek


Salkantay trek
Salkantay trekking 5 days (4 days walking and one day to visit Machu Picchu). It is located in the south of Machu Picchu archaeological park, rounding the site. This trekking pass from a mountain landscape with a view on the snow-capped peak of Salkantay to a vegetal landscape of high jungle. The major difficulty of this trekking is the cross pass at 4600 meters. The way allow to arrive on foot to Aguas Calientes Village that makes this way more economic than the precedent. So, it is adapted both to people who desire a sportive walk and to lovers of great landscapes.

The Salkantay trek


Trekkings in Cusco region that don't include the visit of the archaeological site of Machu Picchu

There are other trekkings without Machu Picchu visit included. Warning, all the following trekkings are only proposed in private service.

Choquequirao trek
This archaeological site (interesting alternative of Machu Picchu) is a big citadel located on a rocky outcrop above the Canyon of Apurimac River. Because of several expositions made in Paris, French peoples know this site. You must deserve to visit the site. The access is via a trekking of 4 days, round trip. It is located between 1500 and 3000 meters altitude so it is warmer than trekkings in high mountains and it's easier to breath (for peoples suffering from high altitudes and for skittish persons. It is also possible to join Choquequirao to Machu Picchu in 8 days. This trekking if for sportive persons, nature lovers, persons who want to discover an unrecognized site.


Choquequirao in 4 days
Choquequirao and Machu Picchu in 8 days


Ausangate trek
In Ausangate region: for hikers looking for mountain routes. This region is located at more than 4000m (with a peak at 5130m), making the walk difficult. Possible trekkings from 3 days to 6 days (and more). It exists the option, almost unique in Peru, with nights in shelters with all the comfort. This trekking require a good acclimation to altitude so it is recommended to be at least 72 hours at more than 3000 meters altitude before the departure. This is a beautiful trekking for good walkers, passionate of High Mountain.

Ausangate Trek Lodge to Lodge - 5 days


Trekking in Arequipa and Huaraz regions

Trekkings in Arequipa region and Colca canyon
3 or 4 days walking to discover Colca canyon depths.
Contrary to most of the tours we have, nights in Colca canyon are organized in shelters. So there is not mules planned, there are in option. This organization more simple allow to avoid private car and travel by the road with local transports. Rates for those trekkings are very attractive.

The Colca trek in 3 days


Trekkings in Huaraz region
The beauty of mountain landscapes is world-renowned. The possibility of a long and difficult trekking made this place a major place to ramble in Peru. Located at high altitudes, it is necessary to have a good acclimation of 3 or 4 days before to start any tour. Trekkings in the region are divided into two cordilleras:

Cordillera Huayhuash
Unanimously in the walkers' world, the Cordillera Huayhuash is considered as the most beautiful trekking in the world. It exists routes from 3 to 11 days through the most prominent is the trekking of mini Huayhuash (3 days), also known as Llamac trekking. This is the most salvage of the two cordilleras.

Mini Huayuash in 3 days


Cordillera Blanca
Itineraries that allow to discover the principal attractions of Cordillera Blanca and moreover the typical view on the Alpamayo, 5947m altitude, declared as the most beautiful mountain of the world during a competition organized by UNESCO in 1968. There are trekkings from 4 days to 11 days through the most famous is Santa Cruz Trekking.

Santa Cruz trek in 4 days


If you want during you stay visit Machu Picchu and do a trekking in the region of Huaraz, you have to organize time because Huaraz and Cusco regions are distant and you must go to Lima first. There aren't direct transversal flights between Cusco and Huaraz.