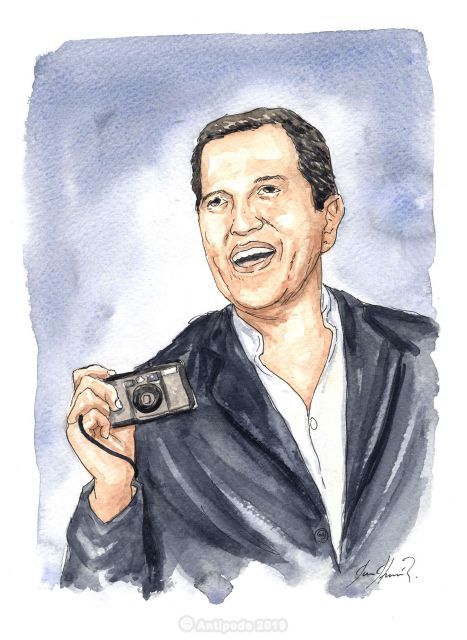 Who are the most famous Peruvians?
Sofia Mulanovich
Born on 24th June, 1983, in Punta Hermosa, Sofia Mulanovich is a Peruvian professional surfer. Since she was young, she practiced this sport on every Peruvian spot. Considered by specialists as one of the best surfer in the world, she is the flag-bearer and one of the factor of popularity for this sport in Peru.

She boasts an enviable record:
2004 World champion
2003 Second place at the World Qualifying Series WQS
2003 Seventh place at the World Championship Tour WCT
2003 Elected as best hope at the WCT
2002 Second place at the WQS
2002 National champion in Peru for the fourth time in a row.

Mario Testino
The oldest of a large family, he settled in London in 1976 and started to work as a fashion photographer. Quickly, his talent propelled him at the top of photographers and he started cooperating with the best magazines like Vogue or Vanity Fair.
He worked a lot with Kate Moss and this collaboration participated a lot to the model's success.

Gastón Acurio
Son of a Peruvian senator, he studied law at the University of Lima but he gave up quickly to travel to Paris to study at the Cordon Bleu because he was passionate by cooking and local products.
Real entrepreneur, he rules an empire of cooking with franchises in the whole country and all over the world. He widely contributes to development and radiation of the Peruvian food, in particular with the organization, every year, of the international festival of gastronomy in Lima. He is, according to specialists, the best chef in South America and every opening of restaurant is an event.

Juan Diego Flores
Former Student of the National Music Conservatory of Lima, born on 13th January, 1973, he started his singer career at the National Choral of Peru. He has been early spotted for his aptitude as a tenor and his remarkable mastery in the highest notes. He obtained a scholarship for the Curtis Institute of Philadelphia.
From his 23 years-old, he started with the famous Rossini Opera Festival and continued his performances in the most prestigious Operas of the world like the Metropolitan Opera of New-York, Carnegie Hall and the Theater of Champs-Elysées in Paris.

Mario Vargas Llosa
Mario Vargas Llosa est certainly the most famous Peruvian, laureate of the Nobel Prize of Literature in 2010. He wrote his first novel in 1963 in Paris, The Time of the Hero (La ciudad y los perros), and masterpiece inspired from his youth and his education in a military school of Lima. Applauded by Criticism and knowing a worldwide commercial success, he is translated into 20 countries and more; this is the beginning of an incredible career of author.

His masterpiece:

The time of the Hero (La ciudad y los perros), 1963
The Green house (La casa verde), 1965
Los cachorros, 1967
Conversation in the cathédrale (Conversacion en la Catedral), 1969
Captain Pantoja and the Special Services (Pantaleón y las visitadoras), 1973
Aunt Julia and the Scriptwriter (La tia Julia y el escribidor), 1977
The War of the End of the World (La guerra del fin del mundo), 1981
Real life of Alejandro Mayta (Historia de Mayta), 1984
Who killed Palomino Molero? (¿Quién mató a Palomino Molero?), 1986
The storyteller (El hablador), 1987
In Praise of the Stepmother (Elogio de la madrastra) 1988
Death in the Andes (Lituma en los Andes), 1993
The notebooks of Don Rigoberto (Los cuadernos de Don Rigoberto), 1997
The feast of the Goat (La fiesta del Chivo), 2000
The way to Paradise (El paraíso en la otra esquina) 2003
The bad girl (Travesuras de la niña mala), 2006
Un Rasta à Berlin, (A rasta man in Berlin) October 2009
Comment j'ai vaincu ma peur de l'avion (How did i overcame my fear of plane) 2009
The dream of the Celt (El sueño del Celta), 2010

Victor Delfin
Peruvian painter and sculptor, born on 20th December, 1927, he is known in the whole world for his masterpieces talking about birds, horses and others animals, full of sensuality. He made the most famous sculpture of Lima that is in the Love Park; "El Beso".
He illustrated himself in particular against Fujimori's dictatorship during the 90's and against war between Peru and Ecuador.
His house in Lima is a private museum that is possible to visit (only upon request).

Yma Sumac
Yma Sumac, real name Zoila Augusta Emperatriz Chávarri del Castillo, was born on 12th September, 1922 and died on 1st November, 2008. She was a Peruvian Mezzo-Soprano singer. She is a direct descendent of the last Inca; Atahualpa.
Since she was young, she sang in music folkloric Andean groups. She has been seen by the Ministry of Education and she first started her national career in Peru.
Quickly, her art has been exported in the Operas of the world but her true success were in the United States of America. Nicknamed "La Castafiore Inca", she ended her career with movies in Hollywood.

Javier Perez del Cuellar
Born on 19th January, 1920, he started his lawyer career at the diplomatic service of Peru and has been named ambassador in France, United Kingdom, Bolivia and Brazil.
After being during many year the voice of Peru at the ONU, he became, during two mandates, secretary general of the United Nations.
He is known to calm tensions between England and Argentina after the Falklands War, to return peace and stability in Central America and to help maintaining peace in Western Sahara between Polisario Front and Morocco.


Chabuca granda
Chabuca Granda, real name Maria Isabel Granda y Larco, was born on 3rd September, 1920 and died on 8th March, 1983. She is considerate like the greatest singer and songwriter of Peru. Her type of song were from Afro-Peruvian inspiration, mainly waltz, but also Tondero, Copla and Lando.
True icon of Peruvian Culture, there is no party in Peru without one of her compositions.