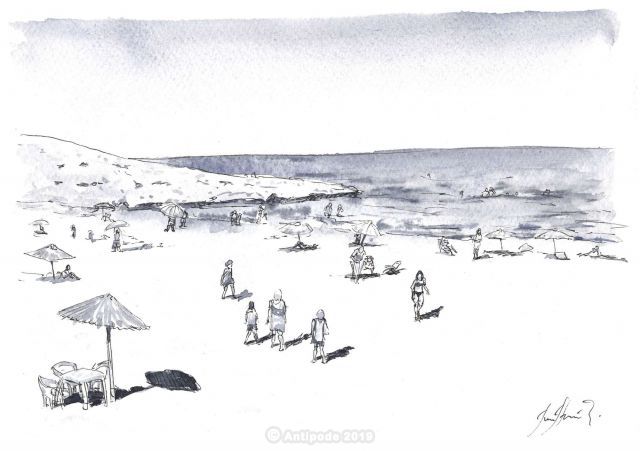 What are the main beaches and where can we swim in Peru?
Tumbes Beaches

Zorritos
One of the main beach of Tumbes is Zorritos, not so far from the boarder with Ecuador and from the national park of mangroves of Tumbes. The water is about 26°C all the year.

Punta sal
Considered as one of the most beautiful beach of Peru and privilege place of Peruvian presidents, the beach Punta sal has sun almost all the year and dunes planted with carob trees.

Piura Beaches

Mancora
Holiday (and party) destination of the youth of Lima during the South American summer (January and February, Mancora is particularly crowded. It exist numerous hotel and restaurants at any price.

Pocitas
Not so far from Mancora, Pocitas Beach has the particularity to be located in a rocky area where spaces such as bathtub have been created.

Cabo Blanco
This is a beach of a small fishing port which attract every year surfers of the entire world. To simply swim, it is recommended to visit Restin Beach, which is more protected from wind and waves.

Colan
Not so far from San Lucas de Colan town, Colan is a nice and pleasant small beach, decorated with fishing huts made of wood and on wooden piles.

Punta Nunura or Shode
This deserted and very salvage beach is the place to observe sea turtles and dolphins. It is formed by dunes and white granite.

Lambayeque Beaches

Pimentel
Traditional Peruvian beach and port with fishing huts and caballos de totora, this beach is recommended during the South American summer (January and February).

Eten Beach
Eten port date of 1873 and aside from summer, this beach is not recommended because of the swell size.

Las Rocas
This beach is perfect for idleness and history lovers because it is near from the archaeological site of Huaca Blanca. Scuba diving fans go to this beach to visit the wreck located off the coast.

Naylamp
This very sandy beach has the particularity of create natural sea water pools. It is also called Monsefu, Cruz del Faro or Playa Niño del Milagro.

Santa rosa
Almost every day of the year, it is possible to observe fishermen extend their fishing nets from the beach. It is also possible to practice surf.


La Libertad Beaches

Huanchaco
This is one of the most pleasant and famous beach nearby Trujillo. With its street ceviche vendors and caballos de totora, this is really Peru.

Pacasmayo
This beach and its port were used during the last century to export tobacco, rice and sugar. This is also the place where you could taste a unique dish in Peru; hot ceviche.

Puerto mori
High place of the Peruvian gastronomy, it is possible to taste typical dishes, «burst crab » and « sudado de chita ». Beaches nearby like Playa Chica, Carmelo or Cerro Negro are also beautiful.

Ancash Beaches

Tortugas
Its name stems from the presence of sea turtles and its hot and pleasant waters are perfect to swim.

Rincon de los Piños
This beach has the particularity of being located in front of the Widow Island, name stemmed from the sinking of the frigate Mercedes in 1852 where 1200 persons were drowned, except the captain wife.

Lima Beaches

Asia
This is the Peruvian Saint-Tropez, the beach to see and be seen, where all the Limenian elite comes to spend its week-ends.

El faraon
This beach has this name because of the presence of an island just squarely and shaped like a pyramid. Nearby, we can see the beach of las Isla and it is possible to eat in typical restaurants in Puerto supe village.

El paraiso
There are beaches especially frequented on mornings by Lima inhabitants because during the afternoon, a strong wind stands up. Nearby, we can see the beaches of El Palmero, Tilca Tocoy and Playa Chica.

Ancón
This beach, located at about 38km from Lima, is bordered by a boardwalk and old fishermen houses made of wood.

El silencio
This is one of the beaches the most famous of Lima because it is located at only 30min from the center city. The water is clear and there is not swell.

Punta Rocas
Especially frequented by surfers, there are several rock and reggaeton concerts during the summer.

Punta hermosa
This very beautiful beach as the disadvantage of being summited to a strong swell that make complicated the bathing. Nearby, there are numerous restaurants and nightclubs for the week-ends.
San bartolo
One of the biggest beach of Lima, with a rocky maritime floor and a few sand; this is also a destination for a weekend for Limenian.
Ventosa
This beach, surrounded by cliffs, is ideal to swin or to practice surf.

Santa maria
Before, this beach was for the Limenian bourgeoisie; ideal to swim thanks to the lack of waves.

Pucusana
Pucusan is a typical fishermen town. On the port, it is possible to taste ceviche de conchas negras and scallops.

Bujama
This beach with fine sand and shells is a place where it's possible to taste chicharrones and tamales.

Chepeconde
This secret beach, discovered 20 years ago, is made of caves. It is very popular for camping amateurs.

Cerro Azul
At the foot of Mont Centinela, Cerro Azul beach is the evidence of an ancient port, very prosperous but which has been dethroned by other commercial ports more moderns.

Ica beaches

San Pedro
This is Chincha beach, cradle of the Afro-Peruvian culture. African peoples who have been deported from Africa to work in cotton fields are already presents.

Paracas
Paracas beach is a wonderful observatory of fauna and flora with the possibility to see condos flying over dunes.

Puerto caballas
This ancient seaside resort was famous 30 years ago. It lost its frequentation because of the lack of infrastructures to join it.

Arequipa beaches

Camana
This beach is very popular in summer (January-February) because it has very good structures as pools and hotels or apartment and houses rentals.

Jiway
This beach has the particularity to be near from faming terraces dating of the Pre-Inca period of Ayparipa. We recommend to swin here during the South American summer.

Mollendo
Very famous beach, know by Arequipa and Puno inhabitants. Most of the time, there is a stong swell invigotaring and the beach is made of pebbles.

Mejia
This beach, besides being pleasant to swim in summer (January-February), is a privileged place to observe birds (birdwatching).

Tacna beaches

La boca del rio
This is the only beach of Tacna that represents good infrastructures to accede and to welcome in the extreme South of Peru.