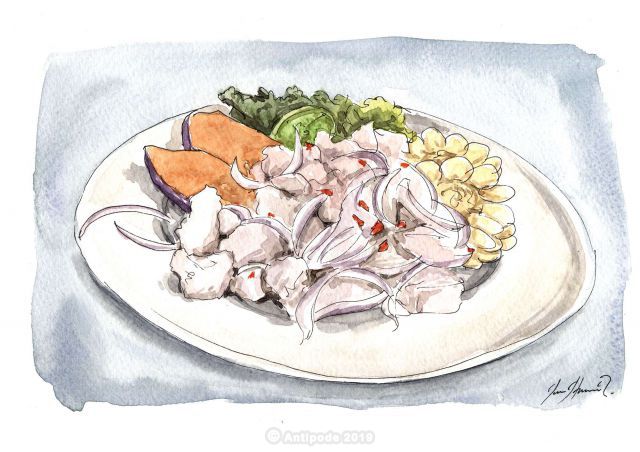 Gastronomy in Peru
What are the typical and emblematic meals in Peru?
Peruvian food is, with football, THE national pride and the relation between all these populations with different cultures and realities. This is a real essential component of national culture. Recognized (according to their opinion) as the best world cuisine, here are some paths to discover a menu as multifaceted and delicious.
The main characteristics of Peruvian food is the presence of rice at every meal (Peruvian people cannot have a meal without rice), along with tubers (potato, manioc and others). Meat is present in every dishes, as aji, a spicy dip with many grades. Soup is a crucial element of the meal, and menus are mostly made with a soup and a main course (that can be sometimes replaced by a starter).

We can start to talk about Peruvian food without talking about cebiche. This dish made with fish is fundamental for the national Peruvian pride because it represents conflict with Chile (sworn enemy) about the origin of this dish and it still vigorous. The principle states; take fresh fish, cut it into small cubes, let it cook (yes, I said cook) in lemon juice, add onions slices and aji, this local hot pepper, and serve it ultra-fresh. Served with its fish soup, chilcano, this dish is so appreciated that even far from the coast and in the high mountains of the Andes, they order to import fish from Lima to prepare cebiche and serve it at any hour of the day.
Several culinary trends (according to the geographical area) come in all regions of Peru. The Comida criolla, born in the coast and highly influenced by Spanish and colonial food, is now popular in all the country. This is the one who made its international acknowledge. The aji de gallina is dish made with chicken pieces put in a yellow sauce, more or less spicy, with aji Amarillo, variant yellow and sweet of the same hot pepper of cebiche. This is the one they use for papa a la huancaina, typical starter made with potato slices covered with a yellow sauce a little bit spicy. Delicious. Another criolla starter is escabeche de pollo; cauliflower, carrot and onion marinated in vinegar, with chicken slices. Papa rellana is literally "stuffed potato" is a starter where a mashed potatoes coat a fodder made of meat, carrot, pea, hard-boiled egg, raisins, olives, that they fry. The same fodder is used to rocoto relleno; rocoto is like aji but bigger, green or red, and in this case foddered. Causa limeña is a sauce with mayonnaise and tuna, between two caps of mashed potatoes, fresh. Sometimes, to lack of access to fish, it is replaced with chicken. All those starters can also be eaten in markets or streets as piqueos, snacks to eat on the run, like tamal, made with flour or other ingredient, sweet or salty, coated into a banana leaf or corn husk, according to the region…
In criollo dishes, carapulcra (very different from its Bolivian namesake) is a kind of juicy mixture with dried potato, tan in color, typical from the coast with hot climate, and again accessible in all the country. The same as arroz con pollo (rice and chicken with seasoning), arroz con pato (same thing with duck) or arroz con mariscos (with seafood). Lomo saltado is a mixture of tomatoes and onions pan-fired with fried potatoes and beef slices. Seco de res (pork, but possible as well with chicken, beef, etc.) is a dish with only rice and meat coated with a green sauce, tasty.
For meat lovers, Peru is wonderland, as for meat quality as diversity of preparation. The greatest surprise Peru hold you is cuy (see the paragraph Peru's Particularities). The cuy chactado from Arequipa or al horno in Cusco are different variants. On the other hand, chicharron is a piece of pork meat fried, roasted and served with mote (mix of corn, beans, etc. boiled) and mint leaf. As we say, "every part is the best part", even tripe (pansa), even stomach (rachi, vow stomach boiled and fried)… With chicken, mollejitas are part of the digestive tract and are very famous. They also eat paws in a dish called patita con mani (with peanuts). You can eat this in all Peru. Similarly, anticuchos are literally in every corner; there are meat skewers (chicken, beef and even more typical: heart beef) surmounted with a potato, which is eaten on the run with aji. Then, a travel in Peru cannot be without tasting llama meat.
In the Andes, we especially pay attention to every type of tubers: apart from potato, there is olluco (served with a particular sauce), yucca (kind of manioc, often fried and served with avocado), camote (orange, kind of sweet potato), virraca, uncucha… And the different preparations of those: chuño and moraya are dried potato, condensed, often prepared with soup. During the dried season, from May/June to October, they prepare huatia; they build an oven with dried land and inside they burn a fire. When embers are hot, they put tubers and/or meat, they blast the oven overhead and the whole cook slowly, retrieving the taste of the Andean red land. We can also see some typical cereals; quinoa (see Particularities for more information), tarwi, kiwicha… From the Amazonian jungle, it is to mention pachamanca; mix of tubers and meat coated with a big banana leaf, cooked below ground, under a big stone, a little bit like huatia. The most typical are preparations with bananas; banana soup, banana flour, banana pancakes, banana cake, fried banana… as well as all freshwater fishes: zungaro, paiche, etc.
Apart from this specialties, classics in Peru, Peruvian peoples love some things that aren't typical… Chifa, mix between Chinese food and Peruvian ingredients/tastes, is an unqualified success. The same for pollo a la brasa, simple roasted chicken served with fried potatoes, salad and sometimes a small soup, is the daily diet (even more) in all Peru.
For gourmets who cannot live without sugar, Peruvian desserts are quite riches and various, in spite of the little interest of Peruvian themselves for sweet things. For cakes, it has to be mentioned tres leches ("three milks"), suspiro a la limeña (very sweet and topped with meringue), and torta helada ("frozen cake, with gelatin). Other sweets that are really attractive, picarones, king of camote mass and pumpkin fried in boiling oil and served with a king of honey – to fall over, mazamorra morada, a mass a little bit gelatinous made with purple corn and spices like cinnamon and cloves, often served with rice pudding (arroz con leche). In respect of pastry, no much things apart alfajor, round and stuffed with manjar blanco (like dulce de leche). The turron de doña Pepe has to be mentioned as well.

With respect with drinks, Peru has so much thing to let you know. To start, without alcohol, chicha morada has the taste of Peru. Like mazamorra, made with purple corn boiled with other fruits, cinnamon and cloves, it is sold in every corner. Soft drinks called gaseosas are very consumed; apart from the typical Coca Cola, and others Fanta and Sprite, the local particularity is called Inka Cola; fluorescent yellow and with taste to chewing gum, Peruvian people won't let you go without having tasted. Then, different infusions (mate) are available: of coca, anise, chamomile (manzanilla)…
About alcoholic drinks, obviously we have to start with pisco; with cebiche, this is the other rivalry with Chili. Mainly produced on the South Coast of Lima, grape liquor distilled, about 40°. It most famous utilization is to create Pisco Sour, cocktail with pisco, lemon juice, sugar and egg white. A must in Peruvian nights. It is also used to the cocktail called algarrobina, name of Black Carob pod (sweet and with protein) which is its main component, with pisco, milk, egg yolk, sugar and cinnamon. About beers, there are quite diversified: the most famous is cusqueña, in its bottle with its particular design, the most consumed (blond or brown) for its quality clearly better than the others. Then, Pilsen, with its 1,1 L bottle, the most popular during family meetings or in communities, Cristal, more consumed on the coast, Bramha, not obviously the best and so decelerating. With beer, rum is the alcohol the more consumed (often combined with soft drinks).

Peru has very good wines, even if its consummation isn't particularly widespread. For this reason, the vast majority of grapes produced on the coast (Ica, Nazca, Moquega, etc…) is distilled to make pisco. Nevertheless, some wines are to be mentioned: Borgoña, red wine very sweet (!!) is present on every point of sale. One of the greatest mark of Peruvian wine is Tacama, located at the south of Ica, this vineyard import since 1920 plants and technologies from France. The close cooperation with French specialists has, among others, participated to the obtention of several international awards. The other great vineyard is Ocucaje and has also been awarded many times at the international, for both white wines and red wines. Tabernero made it specialized in Champagne, quite dry, and sweet wines (that are very famous in Peru). Finally, Peruvian wines have to confront the competition with Chilean and Argentina wines that are imported in large quantity and are very popular in Peru.
Gastronomy Festivals are important in Peru. The most famous is Lima's Festival, called Mistura, literally "mix" in Spanish, which reflects the variety of Peruvian gastronomy and the gastronomy of dishes presented in this festival. Around the country, many initiatives appear; Festival PROVOCARTE, where they put online videos of recipes and preparations and want to promote and conserve Peruvian traditions; Cusco Come (qosqo mijuy or Cusco eat), Feria de la gastronomia y el vina in Chiclana, etc. Many great Peruvian cooks are internationally famous, first, Gaston Acurio, co-founder of Mistura, Pedro Miguel Schiaffino, with experimental and innovative food, Don Cucho de la Rosa, known for his strictly traditional recipes but amazingly delicious and Patrick Vogin, who subtly mix French and Peruvian food in his restaurant the Indio feliz in Aguas-Calientes… Anyway, to lovers of fine food, Peru is waiting for you to let you discover the richness and diversity of its gastronomy.