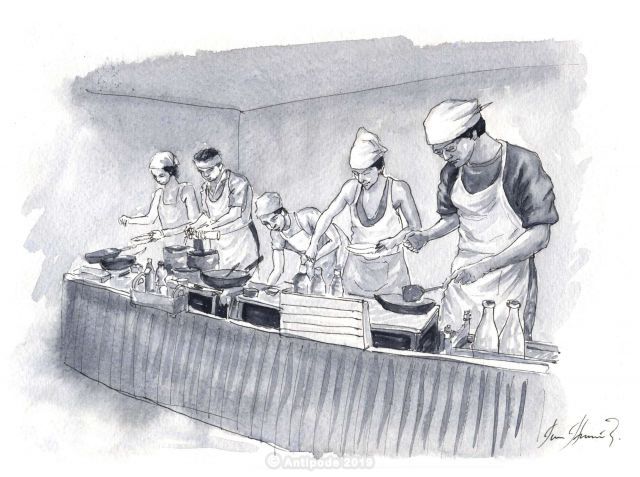 Cooking classes in Peru
Rising star of gastronomic destination at global level, Peru is largely noticed with its traditions and its culinary art, mixing recipes typically Pre-Hispanic, Spanish colonial interbreeding and influences of Afro-American flavors. Each region has a wide range of products and own recipes, as well as a particular home products. For many years, many Peruvian restaurants are opening in the entire world, with spearhead, the restaurant chain of the Peruvian chef Gaston Acurio. Indeed, recently, the Peruvian cuisine has been elected as the best at global level (pace patriots of French cuisine)!
Our agency can propose you classes of Peruvian cuisine in several places of the country, to learn how to cook the most famous traditional dishes, like ceviche, lomo saltado or causa Limeña. It is also possible to learn how to do the famous Pisco Sour cocktail.
If you are interested, contact us!

Example of some Peruvian recipes

How to prepare a Pisco Sour?

Pisco Sour

Ingredients
- 3 Ounces of Pisco (One ounce =29,573 ml)
- 1 lime juice
- 1 egg white
- 1 Ounce of liquid cane sugar
- 6 ice cubes
- 1 or 2 drops of Angostura bitter

Preparation
Transfer the Pisco, the lime juice, the cane sugar and ice cubes to a blender and blend for 1 minute. Then, add the egg white and blend for 5 seconds.
Serve in a glass and add two drops of Angostura bitter. Enjoy!


How to prepare a ceviche?

Ceviche
Ceviche or cebiche? The dispute still exists. This emblem of national pride and claim against the Chilean neighbor and competitor is unanimously approved in Peru. It exists several type of ceviche, according to the fish used and the region. The following recipe is simple and easy for beginners in Peruvian cuisine.

Ingredients
- 200g fish fillet fresh and raw
- 170g lime
- 4g red pepper (Rocoto in Peru)
- 5g Coriander
- 40g red onion
- 100g sweet potato (Camote in Peru)
- 10g table salt
- 5g white pepper
- 53g White maize
- 36g toasted corn
- A bit of celery
- A bit of ginger
- A bit of garlic

Preparation
First chunk the fish fillet and put it all in a bowl, add salt and pepper.
In a mortar, crush a bit of celery, ginger, garlic and coriander. Then, add the lime juice, reserve the mix over the fishy pieces and add the onions and the minced red pepper. Marinate.
Serve with maize, corn and a piece of sweet potato.